An odd incident happened while Se Ri was recording her segment at KBS' studio. It seems in Korea there is a notorious woman fan who has made a name for herself by kissing top celebrities in public places. She has been labeled the 'Hiddink Kisser' by the press because of her most famous exploit: she kissed the coach of the Korea National Soccer Team, Guus Hiddink, on TV (you can see the photographic evidence yourself!). But Hiddink has not been her only victim; she has managed to kiss many of the top sports and entertainment figures in Korea, male and female (she even tried to nab female pop superstar Hyo Ri, but apparently was stopped by security). Well, now this notorious serial kisser had her eyes set on adding Se Ri Pak to her list!

The 'Hiddink Kisser' strikes.
In the left photo, you can see the aftermath
of her having kissed Korean National Soccer
Team coach Guus Hiddink.
Another victim on the right!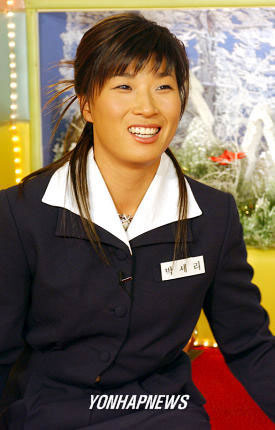 Se Ri on the set of 'Happy Together',
unaware of the fate that may await her
Apparently, a mysterious lady called Sports Today, a Korean sports newspaper, and inquired about Se Ri's taping schedule at KBS for Happy Together. On the 22nd, this strange lady showed up at the studio, claiming to be a reporter for Sports Today. She had bleached blonde hair and a red leather jacket and mini skirt. She had a fair amount of make-up on, and had with her a bouquet of flowers. Typical reporter's garb for South Korea? I think not. Anyway, something didn't seem kosher to the guards, and they kept her waiting at the gate while they tried to verify her credentials. She became agitated, insisting she be let inside, and demanding they contact the producers to verify her identity. She had more than a little chutzpah, don't you think? Anyway, after about fifteen minutes, she left.
But then twenty minutes later, she returned. With a full head of steam, she jumped the turnstile and ran past the startled guards into the studio. A mad chase ensued, but the Hiddink Kisser ducked into a ladies room and hid. Alas, when she emerged twenty minutes later, she was quickly nabbed and tossed out of the studio. Why she was not arrested is not clear, but apparently she will have to wait for another chance to add a Seoul Sister to her list of 'victims'.
So Se Ri's big adventure ended. I don't think she is ready to give up golf for the glamor of modeling or TV entertainment, but she clearly had a good time, decompressed a little, and in general got herself ready to begin her arduous training for 2004. And that's not bad, either!