What type of event would be able to get many of the top Korean players to appear somewhere during their off season?

OK, the Pinx Cup was one such event, and you can read all about it elsewhere in this issue. But after that, there was another big event in the life of one of the Seoul Sisters. Hee-Won Han got hitched to her longtime fiancé Hyuk Son, and many of the top Korean players were there to witness it.

Back in 1995, Hee-Won was still in High School, and Hyuk Son was a pitcher for the Koryo University baseball team. Hee-Won's dad was the head of a 'club' for alumni of Koryo who had once played on the baseball team (it's not clear if he himself is also an alum and former player; it's possible this position was an honorary thing because he was a prominent businessman). Through this club he got to know Son, and Hee-Won met him as well.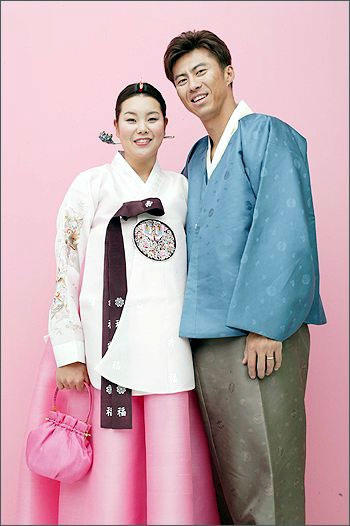 Hee-Won Han and her fiancé, Hyuk Son
Another nice picture of the happy couple
But nothing happened until 1999. Now here is where the stories I've heard diverge somewhat. Some accounts say that Hee-Won's dad 'arranged' for Hee-Won to train with Sonny at a sports clinic to prepare for her next season (presumably hoping that they would hit it off, although this is all implied, not stated). They became friends (and perhaps more?), and supposedly her hard work without complaint made her seem 'adorable'. Other articles I have read suggest they both happened to be at the same clinic working out and preparing for next season, and got to know each other as a result.
Regardless, they stayed in touch even after they left the clinic. By June of 2001, Son apparently had become quite impatient to move things to the next level, and proposed to her (I'm presuming by this point that they were already dating. Anyway, it was not publicly known). Hee-Won was playing in the USA by this time, so the proposal happened during one of their long telephone calls. Hee-Won, however, said "No"!!!
The chronology at this point becomes a little more vague depending on what article you read. In one article, Hee-Won said she really started to fall for him after she lost last year's Sybase, and he was very supportive. Regardless, by late 2002, the relationship had become public, and even then there were strong indications that they would someday be married.
But another more recent article said she did not decide to marry him until after she won this year. Supposedly, there were a series of coincidences that cemented the relationship. Hee-Won won her first event on the LPGA the same week as Sonny, coming back from a shoulder injury, won his first game since the rehab. When Hee-Won won a second time at the Wendy's, Sonny managed his second post-injury victory that same week! They bonded heavily on the phone with these victories, and after a three hour talk one day, Sonny finally coaxed the by now smitten Hee-Won into setting the wedding date. However, evidence strongly suggests that they had decided to marry long before Hee-Won won her first LPGA event (in July of 2003), so this is probably a bit of embellishment on the part of the writer.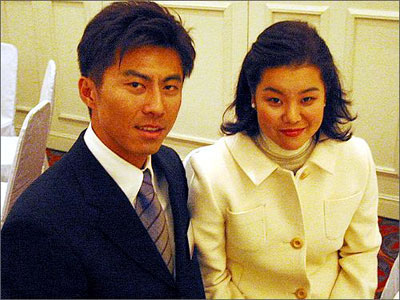 Hee-Won and her beau shortly before their wedding
Both agree that Sonny was the pursuer, and Hee-Won played hard to get. Hee-Won says that she wanted to take time with the relationship so that they could pursue their sports goals, but when she confirmed how much he loved her, she fell for him bigtime as well.

What's most interesting about all this is that this is the first marriage of two great professional athletes in Korean history. Doubtless they will be followed pretty closely in the press for some time to come!
The happy couple finally set the wedding date for December 20th, which would be after the LPGA and baseball seasons were over. They invited a plethora of top players from both of their sports. It was destined to be a bit of a media event, and that's exactly what it turned into.