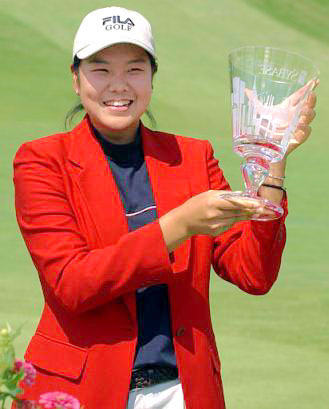 Hee-Won and her Sybase trophy, her first
win on tour
Notable achievements:
During one stretch, Hee-Won finished in the top three 5 of six events, including two wins and two seconds.
Hee-Won had her highest finish on the money list, 4th, and won for the first time in her career on the LPGA tour. She also had her first multiple win season.
Her two wins both came in events where she had finished second the year before.
Hee-Won broke a million dollars in earnings in one season for the first time.
Hee-Won announced her engagement this year; she will be married December 20th.
She also won the State Farm Series bonus pool this year, beating Se Ri Pak in the last event in the competition.
Hee-Won won her first playoff with a clutch 25 foot birdie putt on the third playoff hole for her second win of the year (at the Wendy's Championship).
Assessment:
Hee-Won Han has had a meteoric rise on the LPGA tour. Just two years ago, she was a gutsy rookie who showed a lot of promise by capturing the rookie of the year award, despite being non-exempt and having to Monday qualify seven times to get into tournament fields. But though she won that award, she only finished 70th on the money list. In 2002, she improved dramatically, capturing three second place finishes and rising to 14th on the money list. But this year was another quantum leap forward. She was among the leaders in the league in rounds under pars, rounds in the 60s, birdies, and greens in regulation. She won twice and contended several more times as well.
Hee-Won is still a bit streaky; but when she gets on a roll, as she did in the summer, she seems to be threatening to win week after week. Indeed, from the Sybase Big Apple Classic in July through to the State Farm Classic at the end of August, Hee-Won put up one great round after another. She was in contention at every event she played in that stretch except the British Open, and won twice in that span.
Her iron play in particular has become stellar. One could only watch in awe as she peppered one flagstick after another during this year's Tournament of Champions. Her confidence on the greens has improved markedly, and in general she has a newfound confidence in her game now that she has shown she can win here. One can see great things are still to come for her.
Her performance in the Majors is still a sore spot, but even here she finally showed some signs of improvement. Before this year, her best Major since joining the LPGA was a 25th place at the 2002 Nabisco. This year she beat that mark several times, with a 20th at the Nabisco, and a 19th at the British Open. Her best performance came at the LPGA Championship, where she actually led for two rounds. Alas, bad weather caused her to play a lot of golf in just a couple of days, and it ground her down. She eventually finished 11th, just out of her first ever top ten in a Major.
What she should work on:
The most glaring weakness in Hee-Won's game is her driving distance. She is quite frankly a bit below average in this department. But she is a tall, athletic lady, so there is no reason why she should not be better. It would be a great idea for her to work on her conditioning over the winter, much as Candie Kung did. She could quite probably see a 10 - 15 yard increase in her driving distance. If so, coupled with her accuracy and confidence, she could become a legitimate threat to the top players in the league.
Otherwise, she should continue honing her short game, which is quietly becoming deadly.