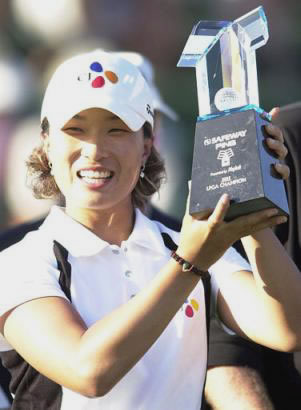 Se Ri holds the trophy from the Safeway Ping
Notable achievements:
Became the first woman in 58 years to make the cut in a men's event, and the only one in history to make money in a men's event. Finished tenth, the highest finish ever recorded for a woman in a men's event. She shot three rounds at par or better, including a 69.
Won her first Vare Trophy for low scoring average (Annika Sorenstam, who had a lower average, did not play enough rounds to qualify).

Ran off 12 consecutive top tens from July to November; 13 if you count the men's event she played in. She then had an 11th and one more top ten. Had three 2nd place finishes in four weeks at one point.

Had three 64s this season in events she would go on to win, and one 64 in an event she did not win (the Longs Drugs Challenge).
Se Ri had her third straight season where she earned more than $1.5 million.
Assessment:
Se Ri Pak had her most consistent season to date, notching 20 top tens in 26 tournaments, the most she had ever achieved. She also had a stretch of 12 straight top tens at one point, by far the most she had ever run off in a row. However, in other key ways, this season was a bit of a letdown. She only managed three wins, her lowest win total excluding her winless 2000 season. For the first time in her career, she had more second place finishes than wins (she had not even had a second place finish in her entire LPGA career until the 2001 season!). Se Ri put herself in contention more often than ever before in her career, yet had fewer wins to show for it.
Her stats were by and large down this year, notably scoring average, which was above 70 for the season for the first time since 2000, and her money total, which was also her lowest of the past three seasons despite the fact she played more events. She improved markedly in her sand saves, which were terrible last year, but her driving accuracy plunged.
Perhaps most disappointing was her performance in Majors. Only twice in her career before this year had she failed to finish in the top 15 in a Major. This season she did this twice, and the third Major was exactly 15th place. Furthermore, those two performances (46th at the LPGA Championship, 50th at the US Women's Open) were the worst she had ever had at those two events, and the Open contained her worst ever round of golf, an 82 in the final round. Indeed, these were two of her three worst performances all year.
Se Ri had also never before lost so often when she was in contention to win. This year she had very good chances to win at the Office Depot, Wachovia Betsy King Classic, British Open, CJ 9 Bridges Classic, and Longs Drugs Challenge, but was not able to make the shots she needed to at the right time. Se Ri did have two brilliant come from behind victories this year, at the Chick-Fil-A and Ping, where she played some of the best, most clutch final round golf she had ever achieved (both ended with final round 64s). She extended her undefeated streak in playoffs by winning a four hole thriller at the Chick-Fil-A that may have been her best ever.
Se Ri also led the State Farm Series going into the State Farm Classic, but only finished 9th at that event, allowing Hee-Won Han to steal that title.
Se Ri's historic achievement at the Korean PGA's SBS Tournament was phenomenal, as she managed a 10th place finish and a 2 under par finish on a tricky 7,050 yard course. However, it clearly tired her out for the end of the season, and she was not able to get the one final win she needed to enter the Hall of Fame in 2003. She is but one point away entering her 7th season.
What she should work on:
The number one thing Se Ri needs to do is get her driving back in shape. She was clearly making strides towards the end of the season. I suspect a combination of swing changes and equipment changes caused her to lose a bit of accuracy this year, but hopefully she will be at least in the top 40 in driving accuracy on tour next year. Her goal should be top 25. When she hits fairways, she is almost unstoppable. This will also help her distance; I'd like to see her get the ball out there more like 270 yards a pop. Keeping it fair will help. Lastly, her conditioning at the end of the year was incredible, clearly superior to the middle of the season. She needs to keep her level of fitness at that level all year in 2004, to avoid these last round collapses, which largely are caused by weary mistakes I think.