SS: One more question: what are you trying to accomplish for next year? Have you thought about it yet?

CK: There were a lot of things going on this year: my first year out, I had no idea what I was getting into, yadda yadda yadda, blah blah blah. During the off season I'm going to be training really hard, both on my golf game and on my mental game, and on my body itself. Being out here this year, I had no time to work out. I spent a lot of the off season working out and things like that, so I lost a lot of time. This is the end of the year, and I finally learned how to manage my time better, and so... Just go out and get totally conditioned all around, and go out there and have a blast; that's the only accomplishment I want. Every year.

SS: Really?

CK: I mean, a win would be nice, but I don't want to push myself. I don't want to have to stand over a 27 foot putt on the last hole to win the hole and force the playoff. Just go out there and have fun.

SS: You would like to do that, you don't want your life to be dependent on it.


CK: Exactly. That's what I mean. I'll be 20 next year, I'll still have at least another 20 years to be out here, I'm hoping.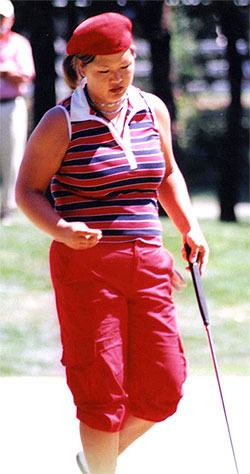 Another of Christina's fashion statements
from this year's US Women's Open
SeoulSisters.com photo
SS: Oh, I do have one more question to ask you before I forget. The outfits that you sometimes wear: you've become somewhat known as somebody who wears very colorful outfits. The berets, and all that sort of thing. How do you come up with all that stuff? Is it something you design?
CK: I am an impulsive shopper! (laughs) I'm a very impulsive shopper. If I see something that is shiny or that catches my eye, I'll buy it and I'll wear it. During a lot of the week I don't really wear golf clothes; I'm wearing golf clothes now because it's during the practice round. But I love going out and I love being colorful; I'm very gregarious, and I love going out and just being with people. If it helps get some attention towards me, helps attract cameras, then that would help me to play better; so be it.
SS: Thank you very much! I appreciate it!
CK: Thanks!
After the interview, Christina talked to me for a couple more minutes. Among the things she said: she complimented the Columbia Edgewater course, where the tour plays the Safeway Classic, as one of the best the tour gets to play all year. She also said it was nice to come play back West. She is a California girl, and just likes the 'vibe' of the galleries more in the West than in the East. And the fact that the weather was so gorgeous all week didn't hurt!
And so, off Christina sped to do another phone interview. She leads a busy life for a 19 year old, and we at SeoulSisters.com are thrilled that she could spend a few minutes with us. Thanks, Christina!