Se Ri Pak's arrival in America in 1998 not only started the Korean golf boom that continues, and thrives, to this day, it also started another tradition: Korean golfers winning the Rookie of the Year award on the LPGA tour. Five of the past nine Rookie of the Year awards have gone to Korean golfers. First there was Se Ri, of course; and Mi Hyun Kim continued the trend by winning it in 1999. In 2000, Grace Park came close to making it a three-peat, but injuries sidelined her just long enough to prevent her from claiming the prize. But in 2001, Hee-Won Han won it, becoming the third Korean Rookie of the Year in the process. The most recent Korean winner of the Louise Suggs Trophy for best new golfer was Shi Hyun Ahn, who collected that honor in 2004. Between them these four golfers have accumulated 36 LPGA victories, five Majors, and one Vare Trophy for low scoring average. These women were not only talented in their first year on tour, but have continued to improve in the years since.
Now we can add Seon Hwa Lee to that august list. Lee officially wrapped up the Rookie of the Year award for 2006 at the Longs Drugs Challenge in late September. Most pundits were probably surprised by the result, as this rookie class was touted as one of the deepest in recent memory. Six of the women in this class, in fact, are currently in the top 30 on the money list, a truly astonishing statistic. But those same pundits, had they looked more closely at Seon Hwa's record before the season began, would have seen that she had a long history of consistent brilliance. This Rookie of the Year win was no fluke, and fans can probably look forward to many more years of great golf from this talented youngster.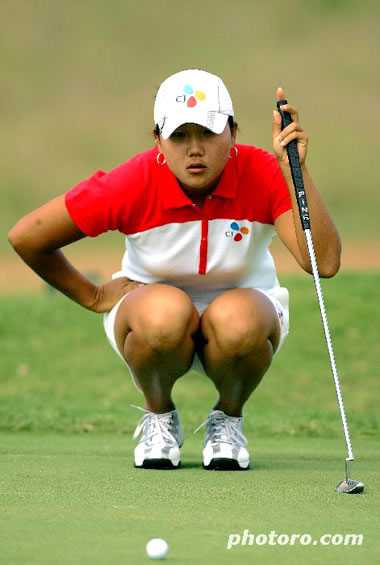 Seon Hwa Lee had a short but impressive amateur record as a youngster in Korea. She then did something no one had ever done before. At the age of 14, she turned pro, becoming the youngest professional golfer in that country's history. She mixed professional golf while staying in high school years before Michelle Wie ever tried it. It didn't take long for her to achieve success. When she won the McSquare Championship in 2001 at the age of 15, she became the youngest winner in KLPGA history.
After several successful seasons on the KLPGA tour, Lee came over to America, aiming eventually to join the LPGA. But first, she played the Futures Tour, the developmental tour for the LPGA. Her first year was solid, but she did not play well enough to advance to the big leagues. Her second year, in 2005, was far stronger. She won once and collected 12 top five finishes en route to topping the money list for that year. Her consistency and great talent was certainly impressive, but apparently not impressive enough to American commentators. While they spoke frequently of the strong upcoming rookie class, they usually focused on Morgan Pressel, Ai Miyazato, Brittany Lang, or Virada Nirapathpongporn (who had finished second behind Lee on the Futures Tour in 2005). Seon Hwa got almost no attention as a possible rookie of the year on this side of the pond. But it didn't take her long to prove she was a force to be reckoned with.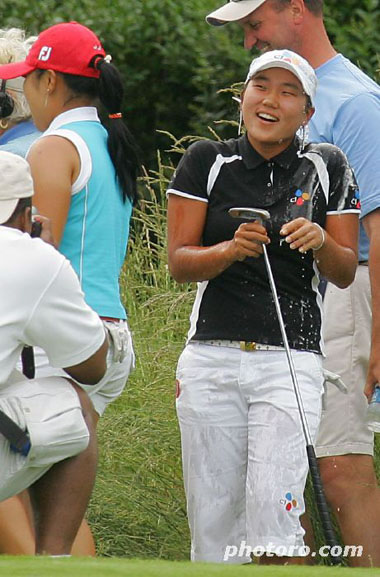 In her very first event on the LPGA tour, she finished just outside of the top ten. In her second event, she seized the lead after two rounds, and held onto it for much of Sunday. Towards the end of the day, she was caught by fellow Korean Meena Lee, who wound up beating Seon Hwa in a three hole playoff. Still, for her to achieve a second place finish in just her second career LPGA start was quite a coup.
Seon Hwa continued her brilliant play. At her next event, she again finished second, and she collected a third second place finish at the Takefuji Classic not long after that. By this point, she had completely taken over control of the Rookie of the Year race. Even when she wasn't finishing second, she was usually ending up in the top twenty. Despite the fact that some of the other rookies were playing quite well, they couldn't seem to make up ground on the young star.
In June, Seon Hwa entered the final nine holes of the ShopRite Classic in a tight battle for the lead with several other players, including Annika Sorenstam. This time, she would not settle for second place. After a brilliant back nine, she easily swept past the others on the leaderboard to claim her first LPGA win, just eleven events into her rookie year. Though Lee slowed down a bit after that, she still achieved enough great results to easily win the Rookie of the Year award. Make no mistake about it: Seon Hwa Lee, a six year veteran even though she is only twenty years old, will be making noise on tour for a long time to come!